The deadline for the Call for Papers for the third Healthy City Design 2019 International Congress & Exhibition has been extended until 29 May 2019.
Healthy City Design 2019 (HCD 2019) International Congress & Exhibition is a global forum for the exchange of knowledge on the research, policy and practice of designing healthy and sustainable cities and communities. This year's plenary theme is 'Designing for utopia or dystopia? People and planetary health at a crossroads'.
Congress attendees will develop their knowledge of the political and economic context, emerging practice, latest research findings, skills and core competencies in designing, planning and commissioning city services, technology and infrastructure, project management, and the evidence base for environmentally responsible urban planning, design and public health. We are delighted to invite you to submit abstracts on the following core themes.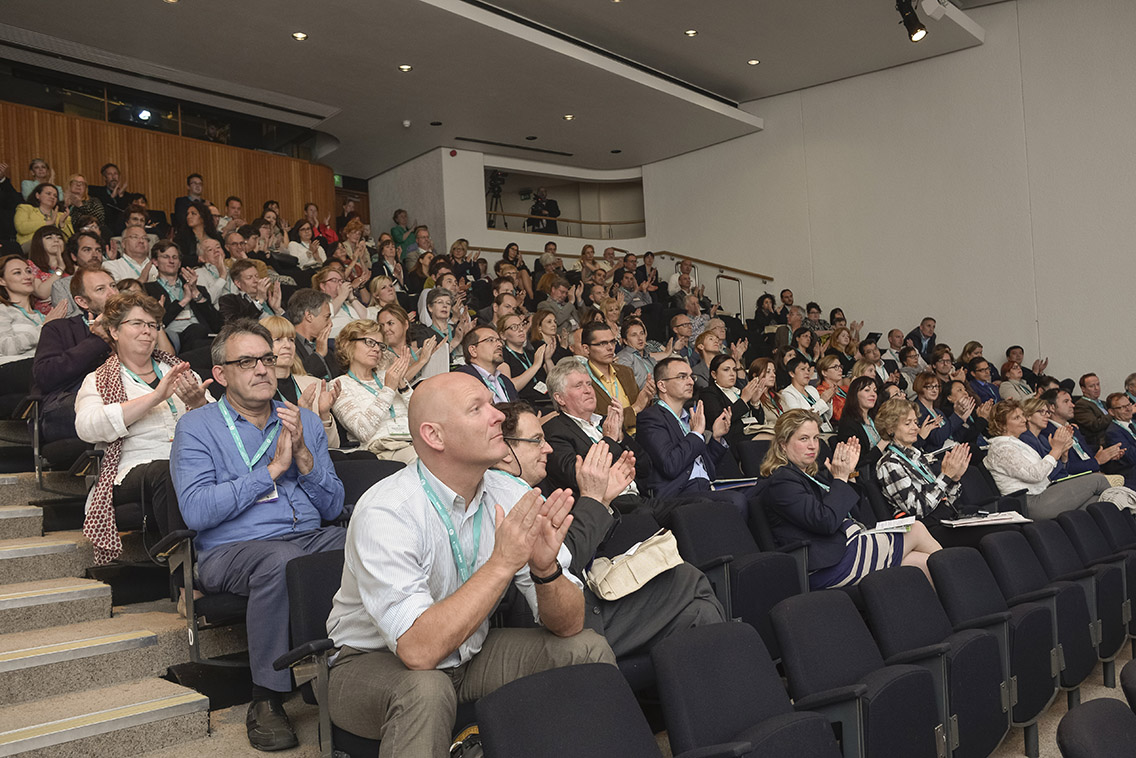 Plenary theme
Designing for utopia or dystopia?
People and planetary health at a crossroads

Congress streams
Homes and neighbourhoods
Nurturing and sustaining health, wellbeing and quality of life

Urban design, placemaking and the public realm
Promoting healthy, active lifestyles and social inclusion

Mobility, travel and transport
Designing ecological and accessible systems and modes of travel

Smarter cities
Health improvement at the intersection of art, design and technology

Sustainable development
Reconciling economic development with the preservation of natural systems
Work and workplace
Creating thriving work environments and wellness programmes

Authors are invited to submit abstracts of 400 words in English for any of the following: a) themed paper; b) poster; c) workshop; d) colloquium. The abstract should clearly state the background, purpose, methods, results and conclusions/implications. Presentations in all four formats can be focused on any of research, practice or theory. For more detailed abstract guidelines, visit www.healthycitydesign.global

Each presentation will be delivered to an interdisciplinary audience, and each stream carefully curated to encourage an informed dialogue. Papers addressing more than one of the congress themes will be given preference. All abstracts will be subject to a rigorous blind peer-review process by the HCD 2019 Programme Committee. A carefully selected number will be chosen for oral presentation with a wider number presented as posters.
Proposals must be submitted using the abstract proposal form, available at www.healthycitydesign.global and MUST include the following:
a) presentation type (themed paper, poster, workshop or colloquium);
b) knowledge focus (research, practice or theory);
c) congress theme (plenary or stream);
d) title;
e) author(s);
f) organisational affiliation; and
g) three keywords.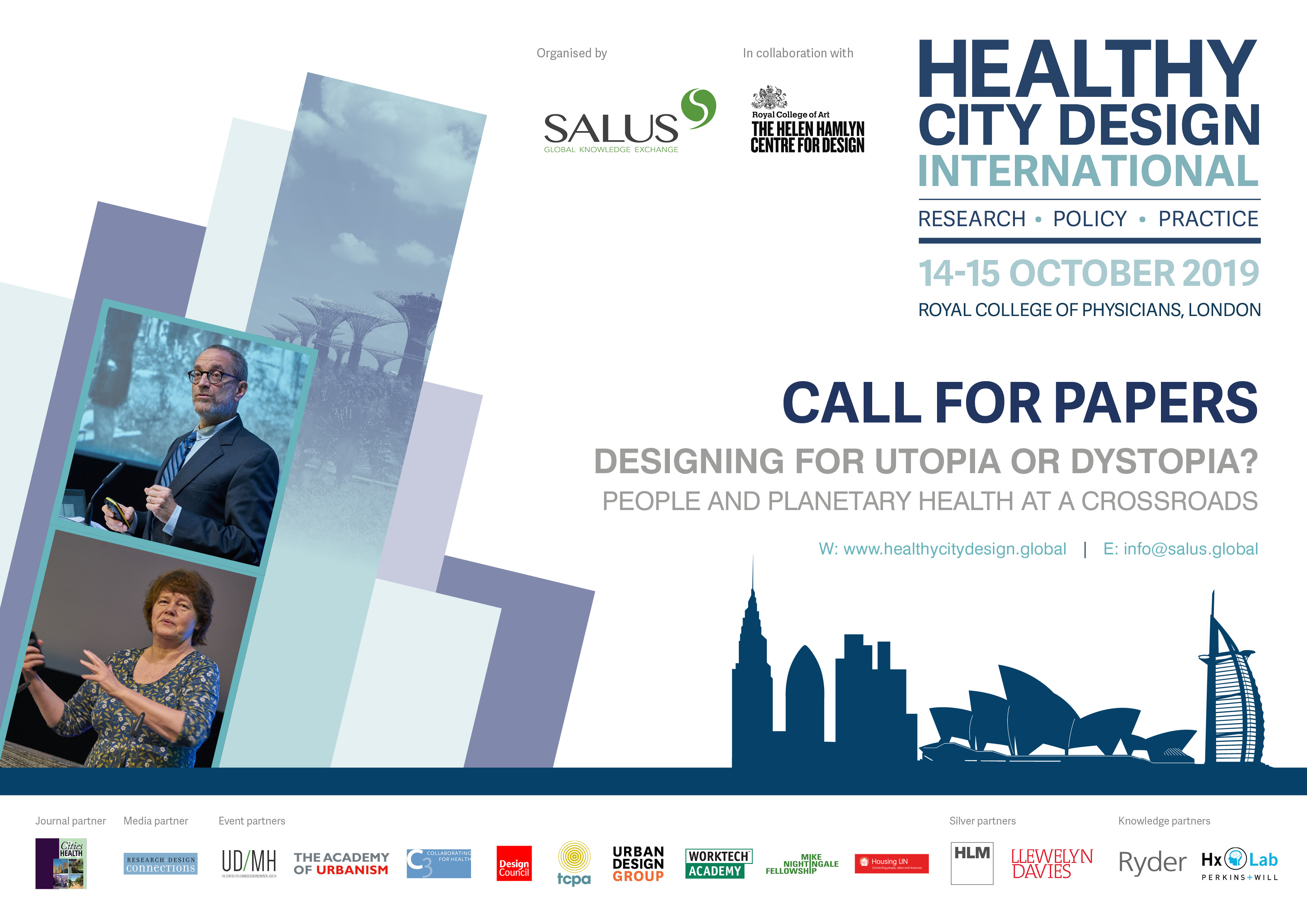 The abstracts of the papers chosen for presentation will be published in the Final Programme. Please note: the author(s) and/or co-author(s) are required to register and pay the registration fee to present the paper at the congress. The official language of HCD 2019 is English.

Full edited versions of the papers and videos may be published on the SALUS Global Knowledge Exchange at www.salus.global following the congress. No paper will be published without the author's consent. Papers may also be submitted to Cities & Health Journal for peer review publication, edited by programme committee member, Marcus Grant.
More information on the conference venue, hotel accommodation and registration fee will be available at www.healthycitydesign.global. All abstracts and enquiries should be submitted by email to the HCD 2019 Secretariat no later than 29 May 2019 at the following address:
HCD 2019 Secretariat
E-mail: info@salus.global
W: www.healthycitydesign.global
Tel: + 44 (0)1277 634176
Who should submit a paper and attend?
The Healthy City Design 2019 International Congress & Exhibition attracts the world's leading interdisciplinary policymakers, researchers and practitioners designing healthy and sustainable cities and communities. The congress will be of interest to:
City governance and policy
Urban designers and planners
Estates/capital development
Sustainability practitioners
Public health physicians
Architects and designers
Engineers and developers
Health/social care planners
Academics and researchers
Occupational therapists
Business/technology leaders
Senior public servants
Environmental groups
Economists